New lady's cut-and-sew tops for summer
SANYO SHOKAI Ltd. has released two types of VORTEX yarn cut-and-sew tops (price range 13,650 - 15,750). These tops dry quickly, hiding sweat stains and making them perfect for summer. The tops will be sold at SANYO SHOKAI's Trans Work chain, found in 110 department stores across Japan.
The tops are made with a blended yarn of VORTEX-spun Lyocell and cotton, giving them a unique, clear surface feeling and smooth, supple texture. The fabric surface in contact with your skin has quick-drying properties, and has been processed to make it difficult for sweat to penetrate. As a result, there are no unsightly sweat stains, making this functional product ideal for the summer heat.
The tops can be purchases from any of the Trans Work outlets, or from the Sanyo iStore, SANYO SHOKAI's direct online store.
Cut-and-sew top with removable bowtie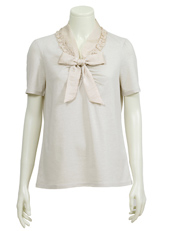 Lyocell 70%、Cotton 30%
Tunic-style cut-and-sew top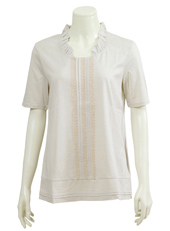 Lyocell 70%、cotton 30%
Go to a list of Trans Work outlets in department stores across Japan (Japanese only)
Go to the SANYO iStore website (Japanese only)