About VORTEX Spinning Machine


VORTEX spinning machine, to twist the yarn by unique air technology, is developed and manufactured by Murata Machinery, Ltd.
No other alternative technology
VORTEX spinning process
VORTEX spinning machines make the yarn packages directly from the sliver after drawing process.
VORTEX Yarn

Blow room
Carding
Drawing
VORTEX Spinning
Packages
Ring yarn

Blow room
Carding
Drawing
Roving
Spinning
Winding
Packages
VORTEX spinning machine outline
Raw materials are drafted at the drafting zone (4 rollers at the top and bottom).
The drafted materials are delivered into the spinning zone. After checking the yarn quality, the yarn is wound onto the package.
Spinning zone
In the spinning zone, the rotational flow of the VORTEX spinning air makes the fibers twisted.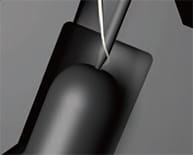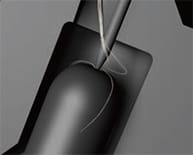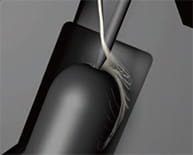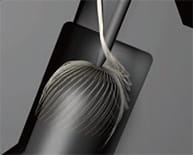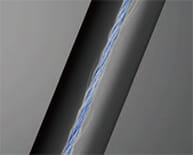 High-speed Spinning
One of the main features of VORTEX spinning machine is its spinning speed.
The latest model can reach up to maximum speed of 550 m/minute (*).
(*)Speed varies depending on the yarn count and material.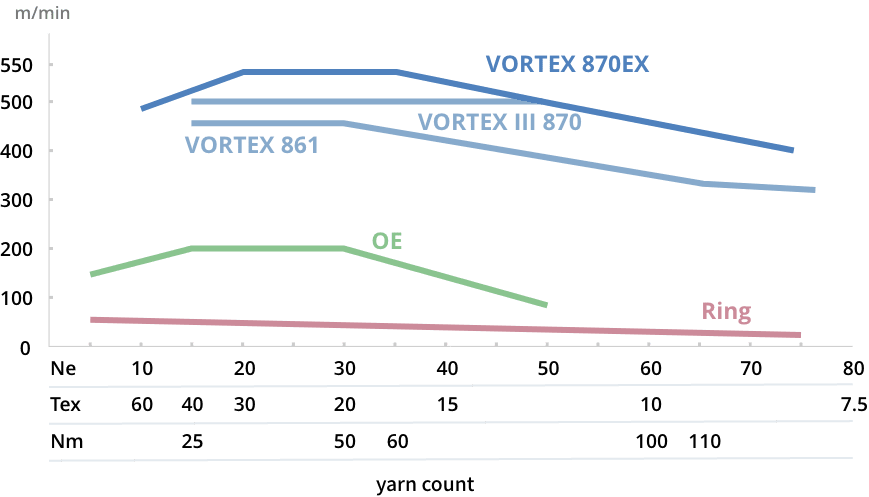 Expansion of Applicable Range of Spinning Materials and Yarn Counts
Based on the customer's opinions and experiences, we have continued to try various materials and yarn counts.
Unlike other spinning systems, VORTEX can cover various materials and wide range of yarn count, Ne10-80, only by changing few components.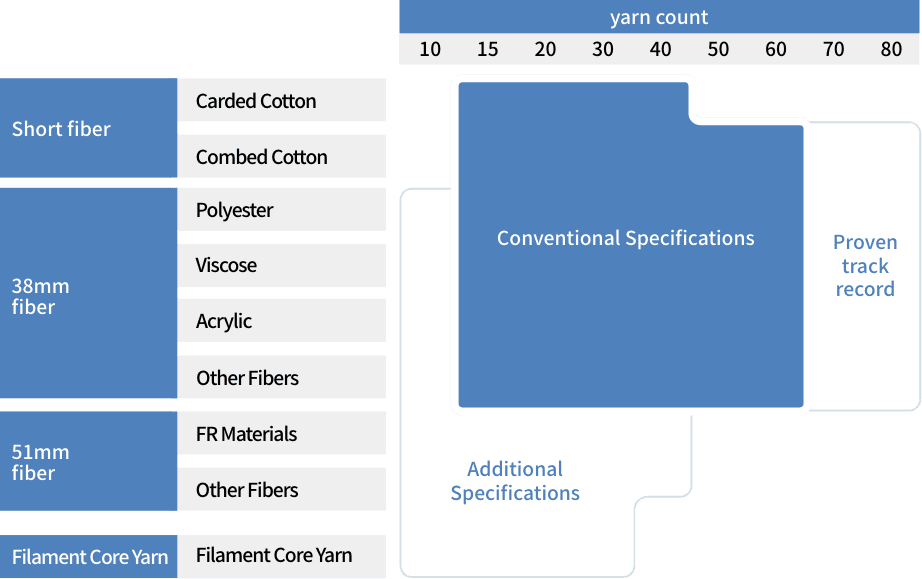 Main Specification
Spinning
Material
Cotton 100%, Synthetic/cotton, Synthetic 100% <Note 1>
Yarn count range <Note 2>
Ne10~80
Recommended fiber length
1.5 inch :~40㎜, 2inch *Option : 38mm~55mm
Sliver weight
70~35Grain/yd (5~2.5ktex)
Take-up system
Traverse width
6"
Winding shape
0'/ 4"20'/ 5"57'
Maximum diameter
300mm
<Note 1> Specifications of nozzle and spindle may vary depending on yarn type.
<Note 2> Yarn count range may vary with a fiber denier or other properties.
Standard equipment

| | |
| --- | --- |
| VOS III control panel | 2 Splicer carriages (~48 spindles : 1 carriage) |
| Spinning Sensor | 1 Auto Doffer |
| MSC (Muratec Spin Clearer) | Automatic Waste Fiber Extracting System |
| Splice method : Splicer | Package Conveyor |
Optional equipment

| | |
| --- | --- |
| MSC-F (Foreign Fiber Detector) | Additional splicer carriage |
| Waxing device | Additional Spindles |
| Package lifter | Additional Nozzles |
| Over head blow cleaner | Splice monitor |
| For 51 mm (2 inch) fiber | POLYMASTER |
| Filament core yarn device | Splice method: Applicable to the knotter |
UNIQUE OPTION
POLYMASTER
POLYMASTER is an unique equipment on VORTEX spinning machine that helps to overcome the difficulties of spinning some fibers, e.g. 100% Polyester. This also helps to increase the spinning speed.
Filament core yarn device
Filament core yarn device supplies the core filament; and the fibers cover the filament.
Filament core yarn market is limited to very special applications because of high labor requirement & lower productivity.
However, with the help of VORTEX core yarn device, customers can overcome such common problems.
History of VORTEX spinning machines
MURATA MACHINERY, LTD developed air-jet spinning technology, the first in the industry in 1980's. This was the predecessor of VORTEX spinning machines.
In 1997, VORTEX spinning machines was introduced.
Since then, we have been developing further to expand the range of yarn, and to improve spinning speed.
In addition to that, we have continued to refine our maintainability and machine layout by referring to the opinions of our customers and refining them to ease-of-use.
This product is highly regarded for its yarn construction and features, which can only be realized in VORTEX, by a wide range of fields, from spinning to apparel.
VORTEX debut!