Features of VORTEX yarns.
The structure of VORTEX yarn optimizes the inherent characteristics of its base material. Features of VORTEX yarn are introduced.

Resistance to pilling

On the casual fashion market, the reduction of pilling has been a significant challenge. Since it has naturally less hairiness, VORTEX remarkably reduces pilling, and has created new markets.
Pilling is a phenomenon where fibers are twisted into ball-like structures by friction between the surface of a fabric and another fabric or object. Because VORTEX has less long hairs and is naturally stable due to its structure, the fibers are secure from movement resulting in reduced pilling.

Pilling test results using ICI method
Knitted fabric: Single Jersey with spandex rayon 100% Ne30 + spandex 40d
■ Wale
pilling rate 3.5
pilling rate 1.0
■ Course
pilling rate 3.5
pilling rate 1.0
Pilling test results using the random tumbling method
Knitted fabric: Single Jersey with spandex rayon 100% Ne30 + spandex 40d
pilling rate 4.5
pilling rate 1.0

Photograph 1 : Comparison of pilling(Knitting)
Single jersey: Ne 30/1 (20/1 tex) Ne 30/1 (20/1 tex)
Single jersey: Ne 30/1 (20/1 tex) PE50/C50
Single jersey: Ne 30/1 (20/1 tex) Tencel 100%
Photograph 2 : Comparison of pilling(Weaving)
200-count sheet: Ne 41/1 (14/1 tex) PE50/C50
Comparison of pilling Carded cotton 100%(US upland)


Single Jersey: Ne 30/1 (20/1 tex), 28 cuts
Double Pique: Ne 40/2 (15/2 tex), 18 cuts
Interlock: Ne 40/1 (15/1 tex), 24 cuts
Rib: Ne 20/1 (30/1 tex), 14 cuts, 1 x 1 rib
Random pilling test 60 min exposure (ASTM), U.S. 1999
Comparison of pilling Polyester/Cotton blend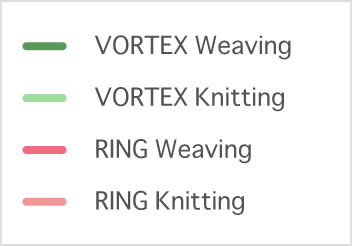 SingleJersey: Ne 30/1 (20/1 tex) PE50/C50
200-count sheet: Ne 41/1 (14/1 tex) PE50/C50
ICI pilling test (JIS L 1076)
10 hours for weaving, 5 hours for knitting, Japan, 2001